An Interview With Dr. Emmanuel Mignot:
Chasing the 'Narcolepsy Gene'
Interview by Tyler Brown | See more interviews with sleep specialists.
The cause of narcolepsy was long elusive, but after more than a decade of searching, Stanford School of Medicine professor Emmanuel Mignot finally found out a good deal about it with colleagues in 1999. In a paper published in Cell, Mignot's group reported finding two gene variants, one in Labrador Retrievers and the other in Doberman Pinschers. Both code for a peptide called hypocretin, which acts as a signal receptor in the brain.
A year later, his group uncovered the same gene variant in humans, suggesting that the same neurological pathway breaks down similarly in both humans and dogs.
Finally, 2009 showed the involvement of a variant for human leukocyte antigens (HLAs), which the immune system uses to differentiate between "self" and "not self," suggesting that narcolepsy is largely an autoimmune disease. An autoimmune disease involves a triggering of the immune system against the body's own cells and tissues--in this case, against the important hypocretin-producing cells in the brain.
Now Mignot, who has spent his career studying narcolepsy and other sleep disorders, also directs the Stanford Sleep Center's Center for Narcolepsy. He gave guest lectures on narcolepsy and restless leg syndrome for 2011's Sleep and Dreams class, and after the first he gave an interview about his early work in finding the narcolepsy gene, diagnosing the disorder, new directions for narcolepsy research, and how technology is changing the study of sleep.
Early Milestones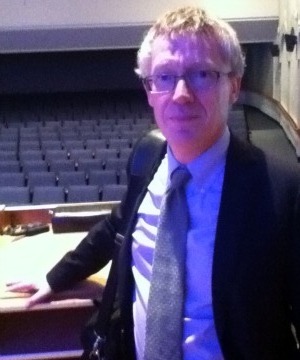 Dr. Emmanuel Mignot, after his 2011 Sleep and Dreams lecture.
The journey to discovering the gene, first in dogs, and then in humans, wasn't an easy one.
"Actually, [I] was very lucky at the beginning," Mignot said. "Because when I started this project in 1989, the first thing we wanted to do is find what's called a linkage marker, you know something that was close by the narcolepsy gene by chance that would segregate in the family of narcoleptics."
Purely by chance, he found the marker quickly--he tried roughly 50 markers and one of them worked.
"Otherwise, I would have, you know, died, probably," he laughed. "So that gave me an impetus to look for more [markers], but actually to go from marker to gene is an enormous amount of work."
"To go from marker to gene is an enormous amount of work."
Mignot's group's next milestone didn't come until they discovered where the gene was located, on chromosome twelve, and realized they needed to catalogue pieces of the dog genome to find a gene marker in a resource called a "back library."
"It's like trying to slice all the dog genome into big pieces so we can study them and tie them together all around the chromosome," he said.
After six months working with a colleague in Buffalo, New York, the job was done.
"The most horrible [thing] about this search is that you have nothing until you have final results," Mignot said. "Because the idea of this search for the gene by positional cloning is really the same idea" as trying to find a person, starting by looking at the world and painstakingly narrowing the image down to the country, city, building, and room where the person is located.
"And until you have the person, you have nothing," Mignot added. "The rooms, the houses don't tell you anything about the person until you meet the person inside.
"The most horrible [thing] about this search is that you have nothing until you have final results."
"And it can be very frustrating because all the work of finding the gene is meaningless; it's just technical. It's only when you find the results that it counts," he added. "What is it, it's this stupid saying that 'the search is more important than the result'? I can tell you, it's not true," he said with a laugh.
At the time, many people didn't think Mignot's goal of discovering the narcolepsy gene was doable, and some didn't even believe the dogs had narcolepsy in the first place.
He recalled a particularly vivid memory of dinner with one of his colleagues' lab groups around that time. At one point, Mignot recounted, his colleague (a neurologist) said he thought Mignot was trying to work on an unknown neurology disorder in dogs that had nothing to do with narcolepsy.
"Ugh," Mignot said, "when you spend your days and nights trying to find it! I was sure it was the same, but you never know for sure if it was going to be really similar to narcolepsy until we find it. It could have been a separate disease that has very similar symptoms."
A Tough Diagnosis
Narcolepsy is notoriously difficult to diagnose, although it is accurately identified much more often now than it was several decades ago.
"You know the worst I had, to show you how sometimes really strange it is, awhile ago I had a crew from Australia coming to an interview about narcolepsy, and they started to interview me and I started to explain the symptoms," Mignot said, "and the guy who was holding the microphone, you know? He kind of became completely white. He was like my age, 50-something, and then he was becoming completely white and after a while he lowers his microphone [and] says, 'Hey doctor, I think I have your stuff.' And he had it, like, for 30 years, he had no idea."
"So people can live a life without knowing it," he added.
The man in question thought that every time he became paralyzed when he laughed it was completely normal. He was also tired almost all the time and thought he was a little depressed, but didn't know why.
A dearth of correct diagnoses can be attributed to doctors' poor knowledgebase, but that is rarely the whole story.
"He was like my age, 50-something, and then he was becoming completely white and after a while he lowers his microphone [and] says, 'Hey doctor, I think I have your stuff.'"
"I'm sure the doctors are largely responsible," Mignot said. "They have not been educated enough about it, but also sometimes even the patients don't report these kinds of things. Patients don't like to talk about the dreams, or even, you know, sleep paralysis."
Mignot guessed that half the Sleep and Dreams class had experienced sleep paralysis, for example, but that next to none reported it to their doctors.
"So, sleep is just one of those things that, for a long time, people ignore, you know, they don't talk about it," Mignot said. "That's a problem. We need more education."
But first, at Stanford, and then, across the United States, much has changed in the last half century. Now, Mignot and his contemporaries see children close to the onset of narcolepsy.
"In the past we were seeing adults that had narcolepsy for ten years," he said. "Now it's different. Pediatricians, I think start to recognize it early."
Mignot sometimes has the opportunity to see kids "whose mothers say, Oh, he started narcolepsy six months ago, five moths ago, and they have been to see two or three doctors," some of them misdiagnosed with a seizure disorder or some other problem. But making the correct diagnosis doesn't take as long as it used to.
"And it gives me hope that also we might be able to catch up [to] this narcolepsy very, very early and maybe we can stop the immune destruction of the cells before it's permanent," Mignot said.
But even though the time for a correct diagnosis has gotten shorter, it's still unclear exactly why narcolepsy tends to present in adolescence and early adulthood.
"Most autoimmune disease[s], and we don't know why, start around adolescence or early adulthood and there are many theories about it," Mignot said. "One of them is that the immune system can learn a lot until you're an adolescent or an early adult, and it is still quite active when you're that young, whereas when you're older your immune system becomes less and less strong."
Mignot suggested that adolescence is the time when the immune system has matured and is very strong, but at the same time is still evolving. If the immune system were to develop a reaction against cells in the body, this is the time where it is still likely to happen and the immune system is still strong enough to do serious damage.
Nevertheless, "we don't really understand it really well," Mignot said. "And it could also be sleep deprivation, also. Nobody really knows."
Mignot's 'Favorite Hypothesis'
Recently, researchers have undertaken large-scale genetic studies using tens of thousand of patients with disorders like schizophrenia or Parkinson's disease to discover the conditions' root causes. Like in narcolepsy, both show genetic markers for variations to normal HLA.
As an anecdote, Mignot points back to an oft-forgotten historical event: the influenza pandemic of 1918, which killed 100 million people.
"I find it very interesting because...there is this relationship with winter infections and maybe H1N1, even vaccinations actually, which is very scary," he said. "But what is very interesting is, actually, a little later, there [was] another epidemic that came at the same time [of year] that was almost surely related to the flu."
The disease was called encephalitis lethargica, because it led to brain inflammation and tiredness. Some of the people who caught the disease would also develop abnormal movements, psychosis, schizophrenia, or Parkinson's disease.
"And I think that we're going to rediscover that now, and that in saying a little a bit of what is happening with narcolepsy, exactly how the immune system is working in the brain," Mignot said. "Because the brain is still privileged, you know, it is difficult for immune cells to go in the brain, and there's probably specialized system in the brain. So the immune system I imagine will teach us a lot about some of these other diseases."
That knowledge is important, especially for people with schizophrenia, for "even if there is one out of a hundred schizophrenias that you can treat with an immunosuppressant, it could then make them better." And for Mignot, that mission is a huge part of what drives him in his work.
"[Narcolepsy] has given us a window on [how] the immune system also may affect the brain."
"So that's what's fun about narcolepsy, is not only, you know it has led us to understand some new neurobiology, new transmitters, and important properties of sleep, and produce new sleeping pills...but also I think it has given us a window on [how] the immune system also may affect the brain," Mignot said.
"Very few autoimmune diseases of the brain have been reported," he added. "And I think the reason is it probably often produces nonspecific symptoms with many other things and that's why we can't recognize them yet."
Technological Currents
Looking back, for Mignot the very basic technologies available for sleep research when he started out made research painfully tedious.
"Of course, now, what is the most depressing in some ways is what I did with the dog gene took me ten years," Mignot said. "Nowadays, it would take six months for a graduate student to do the same thing because, you know, technology is available and so forth."
He'll show half a lecture slide that covers the culmination of "endless nights looking for this gene and crossing these dogs and bottle-feeding these dogs and so forth, whereas now it would be much more trivial to do these kind of studies," he said.
But now, more opportunities are open: researchers can screen the entire genome for genetic factors that could affect sleep. Mignot intends to heavily pursue genetics in the future, and suspects it will become a larger and larger part of the work done at the Stanford Sleep Center.
He'll show half a lecture slide that covers the culmination of "endless nights looking for this gene and crossing these dogs and bottle-feeding these dogs and so forth, whereas now it would be much more trivial to do these kind of studies."
"We still don't know, for example, why we feel more and more tired when we're not sleeping," Mignot said. "Clearly, you know, it's genes, because everyone feels it, there must be body components that must be very important to regulate sleep debt. And yet we have no clue, there is nothing known about this, and I'm sure that with genetic approach we are going to be able to understand that."
And for narcolepsy per se, a few puzzle pieces are still missing.
"For example, we don't know exactly which peptide--you know, I mentioned that there is the HLA molecule, and then there is probably a peptide that goes into it from the virus or the bacteria [that] triggers the immune response" that destroys hypocretin-producing cells--this process we don't really understand 100 percent."
Researchers have some ideas, but the details are foggy.
"Once we find that, that will be fantastic," Mignot said. "That will actually be another way to treat narcolepsy. We could try to block it, for example. There's still a lot to learn."
But after decades of research, Mignot might be close to fulfilling his two ultimate goals as director of the Center for Narcolepsy: find a treatment that effectively erases narcolepsy's symptoms and discover a way to stop the disease before it occurs.
He thinks the first goal could be achieved in 10 to 15 years. And even for the latter, more difficult proposition, there is an inkling of hope.
"There are hints that there are maybe certain cells of the immune system that we could detect in the blood before people develop narcolepsy and maybe we could screen people before so that risk" never culminates in narcolepsy, he said. "If we can treat patients perfectly well, I will have made myself obsolete. But don't worry; I will do something else."
---
Has Dr. Mignot's research on narcolepsy sparked something in you? Pay the inspiration forward and share this article using the social media buttons below.
---
Enjoy this page? Please help us pay it forward to others who would find it valuable by Liking, Sharing, Tweeting, Stumbling, and/or Voting below.
And join the conversation with your own comments here:
blog comments powered by