Cyberloafing - An Unintended Consequence of Daylight Savings
by David Wang
(Stanford, CA)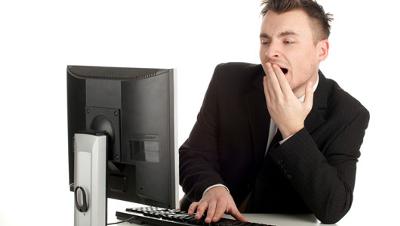 Oh no, daylight savings has come again! As we lost an hour of time last Sunday, college students bemoaned the spring forwards. Most often, that shift led to an accompanying loss of sleep. In a research paper published by Pennsylvania State, web searches related to entertainment rise sharply the Monday after we have shifted to Daylight Saving Time. Studies have shown that working Americans lose on average 40 minutes of sleep due to the time change. Because there is a correlation between lost sleep and self-control, workers are less likely to self-regulate their own behavior. Thus, they will spend more of their time cyberloafing, or surfing the internet reading entertainment stories.


The results of Penn State's study explain the relationship between interruptions in sleep and the alertness level of subjects during their waking hours. For every hour of interrupted sleep, participants engaged in 8.4 more minutes of cyberloafing per hour. In fact, half of participants' cyberloafing can be predicted by the quality and quantity of sleep experienced the previous night (of course, the other half is probably explained by how easily distracted people are by other activities). On a personal level, I found myself especially guilty of cyberloafing this Monday. After sleeping through my first two classes in the morning, I still had issues concentrating in the afternoon. I found myself browsing Reddit, Quora, Facebook, and even wandering over to good old Digg for a few stories.
While Daylight Saving Time was originally implemented in order
to reduce energy consumption, it might actually result in an entirely unexpected conclusion. Sleepy workers will decrease the productivity in the office; thus, various policies should be implemented in order to counter DST. The researchers suggest that methods to limit cyberloafing include restricting access to certain entertainment websites like Youtube while on company computers or to arrange computer screens at angles such that managers can more easily observe their workers. However, these suggestions are only quick fixes: workers who are desperate for their doses can easily find ways to access blocked websites, and forcing computer screens to be arranged in a certain manner raises questions of the privacy and freedom granted to workers. The scientists have neglected to mention the obvious solution: pushing back the work day by an hour in order to give people time to adjust to the new schedule. This way, they won't even be sleep deprived; they will have their typical amount of sleep, and they won't experience the increased desire to cyberloaf.
Although employers will always long for higher productivity, they must realize that requiring longer work hours will likely cut into their workers' sleep hours, which will in fact negatively affect their performance at the workplace. When we look at the productivity losses caused by cyberloafing, we are compelled to take a second look at the costs and benefits of implementing Daylight Savings Time. At the very least, awareness must be raised about how losing an hour of sleep has led to Media-loafing Monday.