Stanford Sleep Outreach Projects
Each year, Stanford students in the university's legendary Sleep and Dreams class create projects to spread knowledge about sleep and sleep disorders.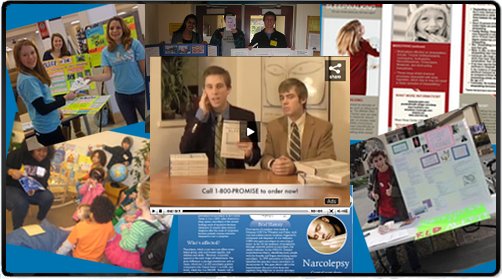 Comical videos, events, story books, articles, classroom teaching sessions, brochures, and more. Here you'll find the unique blend of sleep education outreach fueled by college student personalities.
Teenagers, college students, and adults are as a whole drastically uneducated about even basic sleep science, and this doesn't seem to make sense given the monumental importance of sleep. It consumes a third of our lives, and its mistreatment is the cause for large amounts of accidents and deaths every year, as well as a massive fallout in productivity.
With this in mind, the Stanford students have undertaken the task of reaching more people about the importance of sleep, and many of their efforts from the last few classes are preserved below. Please feel free to enjoy them and share them as much as you like.
---
Kevin's Favorites
Videos
Articles
Brochures
Events
Videos
| | |
| --- | --- |
| **"Fool's Dream" - A Short Film About Sleep Apnea Based On Dickens' "A Christmas Carol"** | by Robert Hintz, Santiago Ibarra, and Cassandra Montoya |
| **"Sleep Debt's Gonna Bring You Down" Music Video** | by Greg Enenstein and Patrick Shoop |
| **Sleepocalypse - Save Dement, Save The World! [Official-ish Trailer]** | by Kellen Asercion, Max Wernecke, Adrian Sierra, and Ana-Karen Zavala-Zimmerer |
| Celebrity Jeopardy - Sleep & Dreams Edition | by Chase Harmon, Leah Belgarde, Sam Wright, and Ernie Haleck |
| "I'm On A Bed" | by Waddie CrazyHorse, Nicole Tantoco, Kaipo Lucas, and Sarah Roe |
| A Narcoleptic Journey | by Jaime Kane, Cheryl Miyake, and Catherine Murashige |
| Sleeping with the Enemy | by Amber Goboy, Morgan Moncada, Annie Prossnitz, and Melina Lopez |
| Stanford's Most Wanted - A Parody | by Ronnie Instrella, Alec Macrae and Ji Soo Park |
| Thrillers of the Night - An Overview of Various Sleep Disorders | by Erika Kaneko, Kava Afu and Charles Mbatia |
Articles
Events & Activities
Brochures
---
Enjoy this page? Please help us pay it forward to others who would find it valuable by Liking, Sharing, Tweeting, Stumbling, and/or Voting below.