Magenta Convertible and Vampires (S&D)
by Anonymous
(Palo Alto, CA, USA)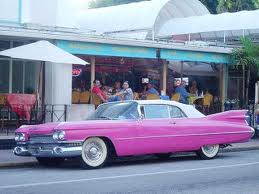 Like for most dreams, I cannot particularly remember where it starts. But my memory does recall…


My parents had just picked me up from The Farm to spend spring break back at home in Idaho. I was ecstatic at the prospect of taking a shower without flipflops for the week, but even more excited that my parents had picked me up in their new magenta convertible. Driving through the desert with the convertible top down, my parents (who I should mention are in their 50's) and my 16 year old sister blared and sang along to Katy Perry's "California Girls."
Arriving at home, we pull into the drive way and my parents turn off the music and turn serious for the first time in the entire trip—-they had "news." We were moving to Arizona and they only reason they bothered to pick me up from school for the week was so I could pack up my own clothes for the move. Awesome. Thanks, Mom and Dad.
At this point, time seems to skip to the last two days of spring break. My parents had already left for Arizona, so it was just my little sister and I finishing up the tedious packing process. I was to leave the next day for Stanford and she (who in reality just got her license on Monday—ALL DRIVERS BEWARE) was to drive to Arizona on her own. Being extremely close to my little sister, I began to cry unexpectedly at the idea of having to
leave her when school starts. So what did I do to cheer up? Throw a party with all my high school friends, of course. The party had begun, and it seemed that everyone was having fun. We were running around the empty house and playing with water guns.
However, one by one, my friends began to glow red and to turn into vampires (my most feared childhood monster). My sister and I were the only ones left normal. As our water guns transformed to real rifles, we realized that they shot electric forces and silver cannons (yes, cannons...). Upon pulling the trigger to protect ourselves, the rifles would delay and produce a force field prior to shooting the cannons. So, it would always take a couple of seconds from pulling the trigger to the actual shot. The delay made for a few close encounters with the vampires. We had no chance to second guess our instincts and knew we had to make it back to her room.
After shooting and killing a few vampires, who no longer resemble my old friends, my little sister and I make it back to her room. Barricading the door with her doll house (which managed to have just the right amount of weight that my sister and I could move it, but the mob of vampires could not), we look at one another to find ourselves panting, while covered with blood and sweat. We begin packing once more, as the banging on the door gets louder...
---
What do you think about this dream? Share your thoughts using the comments link below.