Mark Rosekind Confirmed As Member Of National Transportation Safety Board
Written by Kevin Morton
A huge step forward in the nation's recognition of the dangers of fatigue in our modern world was made on Tuesday (June 22, 2010) when sleep specialist and NASA scientist Mark Rosekind was confirmed by the United States Senate in a unanimous vote as a member of the National Transportation Safety Board (NTSB), along with Boeing engineer Earl Weener.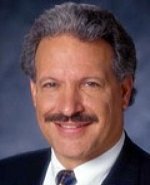 Mark Rosekind will champion sleep and alertness issues in D.C. as a member of the National Transportation Safety Board.
Dr. Rosekind, a member of the Board of Advisors to this website up until his confirmation this week, was nominated by President Obama for the position on October 1, 2009. The wait for confirmation was long, and the Senate certainly had their hands full with other things, but now that it has been made official the sleep community can rejoice at finally having an expert to champion issues of sleep and alertness in transportation, issues that have quickly proven themselves to be matters of life and death in our modern world of airplanes, highways, and exhausted truck drivers.
Dr. Mark Rosekind has a unique and special place in the sleep community. He is internationally recognized for taking what we know about circadian rhythms and daytime alertness and translating that knowledge into practical and effective strategies that enhance performance, safety, and health in areas as diverse as public transportation and olympic competition to hospitals and businesses in general. (You can learn a bit more about these applications from this page, or find a wealth of information about alertness strategies from Dr. Rosekind's website, Alertness-Solutions.com.)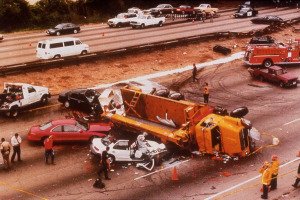 Fatigue-related accidents, such as this highway truck accident, are far too common, preventable, and a major issue for the NTSB.
These strategies and Dr. Rosekind's background will bring a valuable and much needed perspective to the NTSB as it looks to improve the safety of our nation's transportation system. Drowsiness-related accidents are a huge, but often underestimated killer, and the dangers of low alertness during travel due to sleep deprivation, sleep disorders, and just circadian rhythm fluctuations of clock-dependent alerting need to be brought fully into the awareness of the general public.
Stanford Sleep and Dreams and this website attempt to do just that with their catchphrase "Drowsiness is red alert!". Interestingly, Dr. Rosekind got his start in the field of sleep science as a student in Sleep and Dreams several decades ago, and he now returns to his former class each year to give the final two lectures of the course.
Now, he'll be able to take the Drowsiness Is Red Alert message, and the life or death factors it brings with it, to as big a stage as it has ever seen, one that can shape public policy and the future safety of our nation. And we wish him and the NTSB all the best in doing so.