Menlo Atherton High School Presentation
An Outreach Project by Maritza Urquiza & Jeffrey Garcia | Return To Outreach Projects 2010
We taught a class of approximately 25 high school freshman at 8:45 am on Thursday, February 18th. We tried to condense all the topics we've studied over the quarter in Sleep and Dreams into one 50-minute lecture that would be easily accessible to that age group. It seemed to go extremely well, and the students seemed engaged and interested, especially during the dream portion of the presentation (particularly lucid dreaming).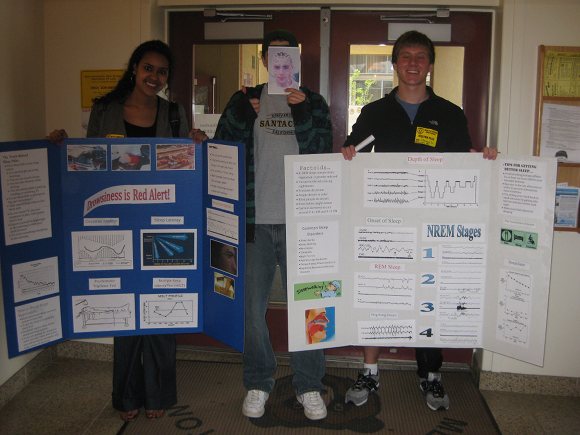 The scientific terminology and methods we discussed might have been a little over their heads, but they all seemed to grasp the core concepts. In total the lecture took 40 minutes, which left 10 minutes for questions at the end. Most questions concerned dream phenomenon, ranging from REM paralysis to the nature of night terrors to the content of particular dreams.
One girl asked us to analyze a particularly emotional recurring nightmare, but we admitted we weren't psychoanalysts and instead described the current understanding about the possible sources of dream content.
Towards the end of the question period, even the teacher piped in with one. She asked us to explain what happened in Dr. Dement's class when students fell asleep, and the students laughed when the answer involved squirt guns and bonus points. All in all, I think the lecture was successful in teaching core sleep knowledge, including sleep debt and hygiene, sleep disorders (mainly OSA and DSPS), and "Drowsiness is Red Alert!"
Where to go from here: