Running, running, running (S&D)
by Anonymous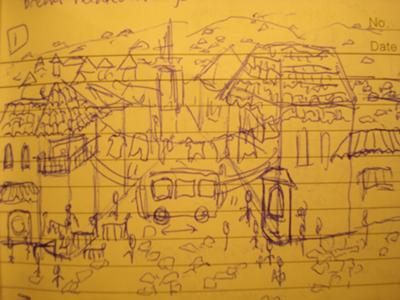 City I was running away from as bus exploded
I was at some kind of army bootcamp. A group of my friends from high school were all at the very top of this slide attached to a big pool of dirty/grimy water, which we were supposed to jump into (for some strange reason). Next to the pool was a moving railroad track submerged under water, which we were supposed to use to get back to our position right now after jumping into the water.


I jumped in when it was my turn and got onto the railroad. Except instead of leading me back to where I was before, I entered into this strange dungeon, where I got the news that apparently there was a bus in the middle of the old city we were in that was about to blow up. Just as everyone was panicking, three ninjas jumped down from the ceiling and said that they could save three people from the ordeal. Luckily for me, one of them grabbed a hold of my hand, and we started running.
I don't think I've ever run that fast before. It was literally like, jumping, flying over entire buildings and sidewalks--as fast as lightning! We dodged past the bus with the bomb just as it was about to explode, our feet pounding on cobblestone streets, zooming past laundry hanging, people lounging in the midafternoon sun, guys in wife beaters playing mahjong.
Along the way we picked up an orphan girl, and as soon as we got far enough from the explosion, we looked back at the mess. Then we dropped off the orphan girl at her house in this really rural and run down area, where I saw two black cats lying on top of each other. It was weird.
When I turned around, I saw Tom (a guy from my orchestra) and we walked a bit farther down the street. All of a sudden, it was as if we were in the '60s or something. I got a sense of strong segregation in the atmosphere. As we were walking, a couple of black people stared at us. We walked into an eyeglasses store, which was apparently owned by my high school AP Lit teacher. I demonstrated a pair of binoculars to some customers as Tom looked around the store. Then, I felt a chill enter the store as everything became really quiet and my AP Lit teacher disappeared. There were two black police officers standing in the doorway of the store. Without even really knowing why, Tom and I tore past them and started bolting down the street. They chased after us with scissors.
The end.
---
What do you think about this dream? Share your thoughts using the comments link below.