Screw Your Roommate Disaster (S&D)
by Anonymous
(Stanford, CA)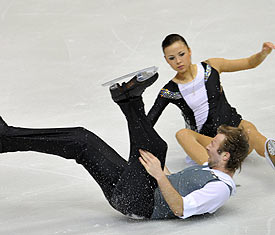 So Screw Your Roommate for my freshman dorm is happening next Wednesday. We are planning to go ice skating! Well, last week, after talking to my roommate about the kind of guy she prefers, I began thinking of people that fit her description and would enjoy ice skating. I texted one of my friends, who said that he would definitely have a fun time ice skating with my roommate and was looking forward to it! Guess I was contemplating the situation a lot because I had a particularly anxious dream about the date I found for her, and what ensued after ice skating.


In my dream, I think I had a fun time ice skating (for some reason, my dream skipped over that part), and afterward, I asked my roommate how her night went. Upon mention of the guy's name, she became furious and demanded, "What is your deal?!" Apparently, the guy I had set her up with, though he agreed to go, did not show up. At this moment, I became extremely confused — I had just saw him at the bar! (I don't know why there was a bar in the ice skating rink... or why an underaged guy was drinking there.) I pointed to him and told my roommate, "Look, he's right over there!" She then replied, "You must be kidding..." When I turned back around, he was gone!
I then got so frustrated that I texted my friend asking him where he had been. He texted me back saying that he had no idea what I was talking about, as he was at the rink the whole time. Now I was completely bewildered, and told him that my roommate was upset that he had not showed up.
Suddenly, we got transported to the CalTrain. My roommate and my friend started arguing with each other, and I was caught in the middle with no clue what was going on. While I was thinking of what I should say, the train screeched to a halt, sending me flying across the aisle and jolting me out of one peculiar and nerve-wracking dream!
---
What do you think about this dream? Share your thoughts using the comments link below.