The Sleep Doctor, The Youngster, and the SBI Process
How This Site Has Come To Reach Over 100,000 Visitors Each Month With Empowering Sleep Knowledge (And How You Can Do The Same With Your Own Knowledge) Written by Kevin Morton

4 Years Later: Four years after the idea for this website was born, and after two years of serving as his Head Teaching Assistant, Dr. Dement and I celebrate life.
August 2012
The story behind how this site came to be is a fun one, with a good bit of history and some fortuitous turns. It involves a man who created a new field of science, his nearly-inconceivably unconventional class, and an energetic freshman (that's me!) who had been spending the last two years learning about and practicing how to mass-communicate information on the Internet.
For me, that spry freshman, it started a couple of years earlier when my father, a professional drummer, approached me with an idea that would launch my interest in the Web. Over the decades of his career as a teacher and writer, he had transcribed hundreds of drum charts. Drum charts, unlike sheet music for most other instruments, are a little bit hard to come by. My dad had put together a catalogue of his charts that drummers from around the world purchased from, but it was done through snail mail and it eventually became more of a burden than a boon. The catalogue was shelved, but one day in the summer of my junior year of high school my dad said, "Kevin, if you want to distribute those charts online, feel free."
I was a somewhat computer-savvy teenager, but had only a tiny bit of web design experience, mostly from building simple GeoCities websites (yeah, remember those?) with my friends about our favorite cartoon. But it sounded like a fun thing to do, so I started looking around for ways of putting the drum charts online. What I ended up stumbling upon changed my life.
Looking back on it, I can see what a dry sponge I was for the information I found, but I'm still amazed at how profoundly it has influenced my life. And at how perfect a fit it made me for meeting Dr. Dement, the other protagonist in this story, just a few years later.
What I stumbled upon was a community, a process, and a learning resource known as Site Build It (SBI, for short). SBI is many things to many people, but more than anything else it is an online business building resource that is designed for everyone from stay-at-home moms who don't yet know the difference between Google and Bing, to tech-savvy programmers--and the whole spectrum in between--to succeed with.
One of the key features of SBI is a video series affectionately called the Action Guide. This was the water to my aforementioned dry sponge. The Action Guide lays out a proven roadmap for taking any subject you know about (your hobby, your business, your favorite vacation spot), and writing about it in a way such that you reach a large volume of the people who are searching the Internet for that type of information. With the proliferation of blogging and blogging platforms, it is easier than ever to write about what you're interested in on the Internet and to make it look pretty. But you can have the best written articles on the most elegant looking website and it doesn't mean much if no one is seeing it. SBI is all about providing you with the strategies and the tools you need to target your content so that it is easily discoverable by the masses who are out there looking for it.
Welcome To Sleep and Dreams
Armed with SBI's knowledgebase, I went into my freshman year at Stanford University and soon found fliers covering my dorm's hallway for Dr. Dement's Sleep and Dreams course. "You dreamt of your RA last night, didn't you?" And, "Sleeping in class gets you bonus points. Seriously." Then in smaller print: "You're demonstrating retrograde amnesia and lowering your sleep debt. You should be rewarded for your efforts, no?" Hmm...well, this sounded interesting.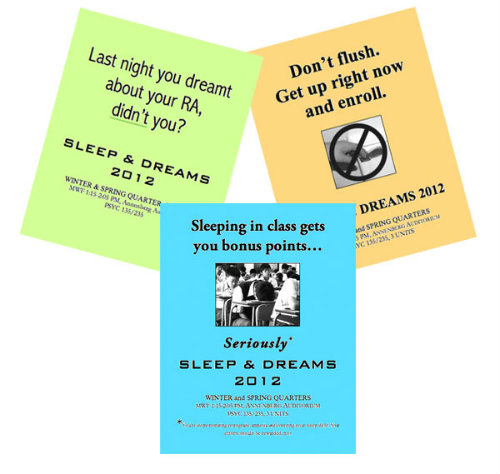 Sleep and Dreams may be the only course in the world that gives bonus points for falling asleep in class!
Dr. Dement ended up embodying this type of personality. His classes were full of jokes and stories and a learn by not taking things so seriously approach. In a world where school is largely a stress test of putting you through the ringer, it was a uniquely refreshing reminder that sometimes the best way to grow and learn is just to loosen up and laugh a little while conversing about a topic.
Less than a month into the class it was crystal clear that Dr. Dement was indeed a unique and passionate fellow. While he was full of stories and laughter, and often got immensely (and at times maddeningly) sidetracked from the subject at hand, there was no mistaking his primary objective: ensuring that the country and the world at large is knowledgeable about sleep health and that utterly preventable sleep-related accidents and health problems become a thing of the past.
The Stages Of Sleep
These cyclical patterns relate to a discovery that Dr. Dement's mentor, Nathaniel Kleitman, and PHD fellow, Eugene Azerinsky, had recently made--that our eyes move in synchronous patterns occasionally during sleep (what they called Rapid Eye Movement (REM) Sleep), and that these eye movements had something curious to do with dreams.
Dr. Dement studied REM Sleep and dreaming extensively, and combined this knowledge with the cyclical patterns he observed throughout the night to finally classify the 5 stages of sleep.
You see, Dr. Dement had spent the last six decades carving the field of sleep medicine into existence. It's crazy to think, but for as long as we humans have been around sleeping, none of us had ever really studied it with such rigor to turn it into a discipline in its own right. That is just what Dr. Dement did, staying up to make the first all-night continuous recordings of brain activity and eye movements during sleep in 1953. He was quick to learn interesting things that just hadn't been noticed before--like that our brain waves repeat themselves in cyclical patterns of around 90 minutes while we sleep. He also observed frightening facts, such as snoring turning into an amnesic suffocation night after night for many, many people (it turned out to be tens of millions, in the U.S. alone).
It started in the labs of Nathaniel Kleitman (Dr. Dement's mentor and another pioneer of the field), it continued in his apartment-turned-sleep-lab in New York, and eventually led him in 1971 to Stanford, where a thrown-together seminar to keep his residents home and safe from violence related to Vietnam protests on campus morphed into an official course that more than 800 students enrolled in after so many residents' friends kept wanting to join the party--it was clear they weren't going to all fit in the dorm anymore.
In Memorial Church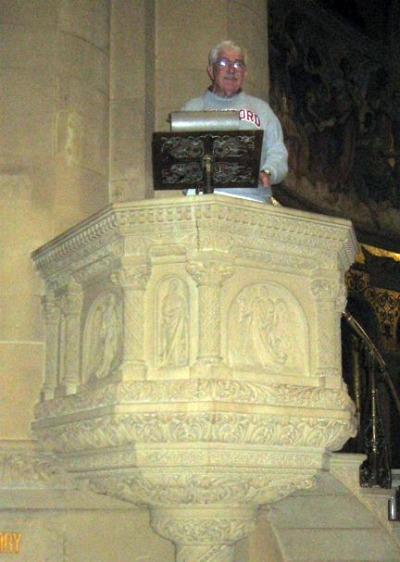 Dr. Dement remembering what it felt like to deliver Sleep and Dreams from inside the church.
With so many students enrolled and all the largest classroom venues on campus already booked, Dr. Dement was in a pickle. He turned to the chaplain of Stanford's church, a friend, who offered his space for the the class to be taught. So the first year of Sleep and Dreams was given inside of Stanford Memorial Church!
After exploring his classroom space a bit and discovering on the first day that giving lectures from the pulpit was just a strange feeling, Dr. Dement gave the rest of the classes from the steps of the church's chancel.
It was this same course, 37 years later that I found myself in, hearing Dr. Dement's jovial and booming voice talking about how imperative it is that people become educated about the biological mechanisms that control their alertness. "Drowsiness is red alert" was the mantra he designated for the class, to do what he could to protect his students and their circles from the fact that tens of thousands of people die every single year from drowsiness-related accidents.
Dr. Dement had made it his life's mission to educate the world about what he'd learned in the lab. He had done a damn good job of it too. For four decades he had taught thousands upon thousands of Stanford students in what became a legendarily popular class, all the while traveling throughout world to speak at events ranging from symposium keynotes to school assemblies, and penning an inaugural textbook in addition to a bestseller for the general public that (as one reviewer on Amazon put it) was a "magnum opus for the masses."
But, fresh off my newly discovered love of working on websites, I noticed that there was one behemoth of a space that Dr. Dement's discoveries had not yet penetrated with any type of cohesion--the Internet. For a man who endearingly had trouble occasionally working his slide advancer remote, such a task was ripe for the next generation to take on.
Filling The Internet Void
Not long into the class my freshman year, I discovered that one of the two main assignments of the class involved taking what we had learned in the class about sleep science and medicine and finding a way to creatively share it with others--through, for example, a lively video, an article submitted to various newspapers, or teaching at a local high school. It was called the Outreach Project, and it mirrored 100 percent Dr. Dement's life mission of spreading the knowledge.
I decided that for my Outreach Project I would make a website where I not only wrote a few articles about the key tenets of sleep science, but that also served as a platform for all the other projects in the class to be preserved and shared with the world. I wanted to leverage the Outreach Project by making it more than a singular event in time--one video screening, one newspaper print, one live class. By providing a space for these events to live online, a click away from the eyes of virtually everyone (or everyone virtually ;), the value gained from the efforts the students were putting into the project could be increased exponentially.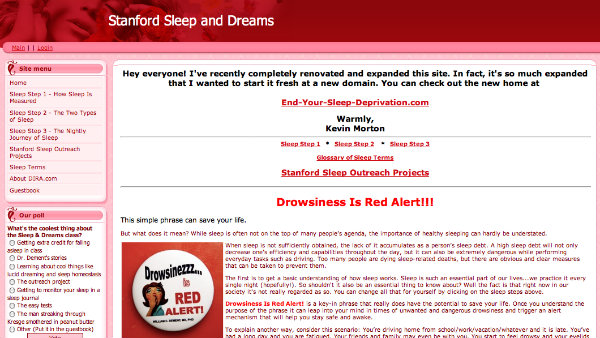 DrowsinessIsRedAlert.com - Well, it's nothing special on the eyes. But it was a start!
When I got permission from the Teaching Assistants to go on stage during class and announce that students could receive extra Outreach points by sharing their project with me to put online, I knew this could turn into something. Projects started flooding into my inbox. Some were duds naturally, but some, like a letter to the President and an originally written sleep-style episode of the TV show The Office, were impressively entertaining. I posted them all up onto a modest, freely-hosted site I threw together at www.DrowsinessIsRedAlert.com in between baseball practice and essay writing. The project was a success and I landed a killer grade in the class.
That success led me to an invitation to apply to become a Teaching Assistant for the course myself the following year. With plans already to turn what I started into a more proper web presence for the class, I applied and got put in charge of course materials. Perfect! After some thought as to how to best go about it, I pitched the idea for a new Outreach option for that year's students to choose from to be included in the assignment handout. The option was to join a web design team with me that had the goal of launching a site to share sleep science with the masses, while capturing the class' quirkiness throughout. This wasn't to be an overly academic site; that was where sleep science already existed online--in peer-reviewed papers in academic journals. We needed to let the true writing voices of fun-loving students shine through, and that is what I encouraged from day one. Learning from this site was to be as close to as fun and unconventional an experience as it was in Sleep and Dreams.
And to make this site a far-reaching success, to let those voices be heard by web surfers throughout the world, there was only one platform knew I could count on to help get me there. I was going to make another SBI site.
To my delight, 20 students seized the opportunity in the assignment handout and signed up to be a part of the web design team. I had graphic designers, photographers, writers, and even a cartoonist! We met in the student center and I tried to distill the information I had learned about creating niche content sites into a one hour conversation. I tried to present the basics of keyword optimization and the strategy that would underly our site--the strategy that SBI had taught me. It was very important to me that we were all on a similar page in terms of understanding that we would move forward with nuanced steps, rather than just put up a site of information that looked nice. I had seen the potential of the process. I had also been researching the last month using SBI's Brainstorm It tool, and the results were very promising--sleep science was clearly an untapped niche on the Internet, and we were in the perfect situation to fill that void.
While SBI now has some pretty nice design elements to plug and play with, they didn't used to. So three of the web design team members independently proposed designs for the site in a contest of sorts. One turned out to be a clear winner, and we were on our way!
Flash Forward To 2012
Flash forward, and today this site reaches over 100,000 visitors every month. It has achieved many of the goals I originally set for it, becoming a cohesive platform for sharing what the scientific community now knows about sleep and alertness, and becoming a home base of sorts for sharing with the world the unique charm of Dr. Dement's Sleep and Dreams.
However, it has also surprised me in certain ways. In particular, with how engaged the readers of this site have become. SBI's Content 2.0 tool has allowed me to make this site a more interactive experience by offering the opportunity for visitors to publish their own pages on the site, sharing their sleep stories and creating a dialogue with other visitors. The invitations to share stories can be found at the bottom of most sleep disorders pages. As I write this, over 3,000 visitor-written stories have been submitted (and I'm long past the point of being able to keep up with them all!).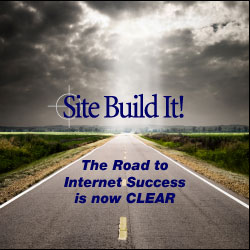 It would have been a whole different ballgame without SBI. It has given me the tools and the knowledge necessary to build a resource that reaches so many people organically on the search engines. SBI taught me how to combine compelling and informative writing with nuanced strategy to build a website that is both useful and brimming with vibrant eyes--a true value-add.
And it is really something that anyone with motivation can learn to do. If you are passionate about a topic and would like to share what you know effectively and productively with the world, I highly encourage you to look into SBI. Regardless of your technical background, it will give you the tools you need to succeed. It is also an incredibly warm community to be involved in, with tons of positivity and helpfulness from other members on the forums. If you give it a try, or want to talk with me directly about it, feel free to let me know! Together, we can help this Internet become a more informative and positive place.
Building this website has been an amazing and rewarding experience thus far. But I know that there is still so much to be done with it, so much room to grow, so much more information we can help share with people. Despite the success it has already had, it is in its baby stages still. And I am excited to see where it goes.
Thank you for being a part of the journey, even just by reading this story.
Sincerely,
Kevin Morton
August 2012
P.S. If you're interested in learning more about SBI, and potentially what it can do for you, check out the short videos below. Also, have anything to say about this story or this site? Feel free to in the comments below.
And join the conversation with your own comments here:
blog comments powered by