Tabling and Teaching in White Plaza
A Fantastic Outreach Project by Adam Klein, Claire Fisher and Lindsay Lamont | Return To All Outreach Projects
On Thursday, February 11th, from 9am-1pm, we educated students, professors, and community members about the importance of sleep. We learned over these four hours that the Stanford community, like our society as a whole, is generally uneducated about sleep and the consequences of unhealthy sleeping habits.
You can see a video of the event right here, and scroll a little lower to continue reading the story in text.
To prepare for our Sleep Awareness Day, we made handouts (with sleep-related tips, frequently asked questions, and common myths), a posterboard (with sections on Sleep, Sleep Debt, Sleep Disorders, and Dreams), and a poster that read, "Drowsiness is Red Alert!" Throughout the process, we documented our efforts by taking pictures and videos. We have included the pictures in this photo album as well as made a video that is on a DVD at the back of the book.
| | |
| --- | --- |
| | |
On the day of our event, we set up a table in White Plaza and used our energy, loud voices, and candy to attract people to our booth. All day, we taught people about the importance of a quality nightÕs sleep, sleep debt, sleep inertia, narcolepsy and other sleep disorders, sleep hygiene, dreams, common sleep-related myths, and more. People were generally interested and often had a couple questions. Typical questions included, "Why do I sometimes feel more tired when I sleep for longer?" and "Do dreams mean something?" After most conversations, people usually allowed us to take a picture of them holding our "Drowsiness is Red Alert!" sign and a video of them shouting the same all-important phrase. We talked with over 200 people throughout the day.
Our favorite moments were teaching the many groups of little kids that came by our booth. They were very excited to learn the basics about sleep and its importance, and were thrilled to hold our sign and parade it around White Plaza, encouraging others to check out our booth and learn more from talking to us.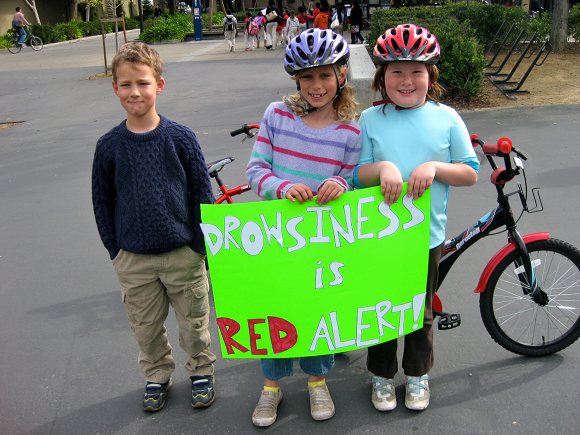 We realized how little sleep education there currently is, and how even on one of the most educated campuses in the world, people still know very little about what they do for a third of their lives. Our project took us one small step closer to solving that problem.
Where to go from here: